ISSN Number : 2347-3150
Impact Factor : 4.6

Paper Format

Copyright form

Area covered : Multidisciplinary

Acceptance : Blind peer review

Paper Submission : submitmsj@gmail.com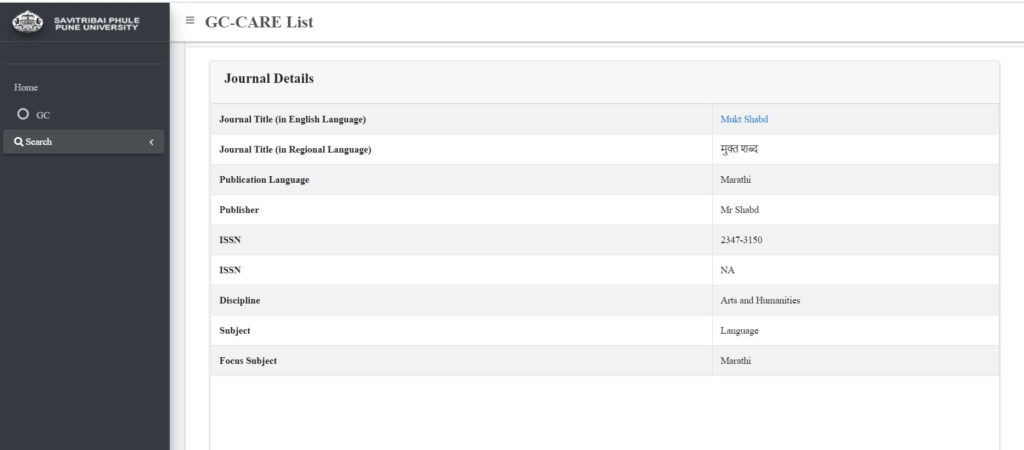 AS PER UGC GUIDELINES
Global standards of high quality research, in all academic disciplines under its purview, the University Grants Commission (UGC) aspires to stimulate and empower the Indian academia through its "Quality Mandate". A public notice was issued by the UGC, on the 28th of November, 2018, to announce the establishment of a dedicated Consortium for Academic and Research Ethics (CARE) to carry out this mandate.
To promote quality research, academic integrity and publication ethics in Indian universities.
To promote high quality publications in reputed journals that would help in achieving higher global ranks.
To develop an approach and methodology for identification of good quality journals.
To prevent publications in predatory/ dubious / sub-standard journals, which reflect adversely and tarnish the image of Indian academia.
To create and maintain a "UGC-CARE Reference List of Quality Journals" (UGC-CARE List) for all academic purposes

AIM & SCOPE

Mukt Shabd Journal (ISSN NO : 2347-3150) aims at the publication of original research, reviews and short communications on the latest developments in all fields of Science & Humanities and Engineering technology. The journal publishes original papers in English which contribute to the understanding of science and Humanities and also developments of the engineering technology and education. Papers may be theoretical, experimental or both. The contribution should be unpublished before and not under consideration for publication elsewhere.
The Journal is a peer reviewed international journal publishing high-quality articles dedicated to all aspects of Science and Humanities and Engineering technology. The Journal considers only manuscripts that have not been published (or submitted simultaneously), at any language, elsewhere. The Journal is issued only in electronic form.

Subject areas for suitable for publications include:

Social Science and Humanities
Arts and Humanities, Business Management, Management Accounting, Decision, Economics, Econometrics, Finance, Anthropology, Communication studies, Human geography, History, Political science, Public administration, Psychology, Sociology, Geography and Regional Planning, Hospitality Management and Tourism, Sociology and Anthropology, Public Administration and Policy Research, Social Psychology, Social Sciences by publishing original research work, short communications and review articles.

Engineering and Technology
Computer Science and Engineering, Electrical Engineering, Civil Engineering, Infrastructure Engineering, Electronics & Communication Engineering, Industrial Engineering, Mechanical Engineering, Manufacturing Engineering, Graphics and Multimedia, Software Engineering, Biological Engineering, Chemical Engineering, Agricultural engineering, Remote sensing and information system.
The Journal accepts various types of articles defined as follows:

Types of articles include

Original research papers,
Reviews,
Mini-reviews,
Short research communications,
Letters to the editor.

Mukt Shabd Journal is designed for the prompt publication of peer-reviewed articles in all areas of the subject. The journal articles will be accessed freely online.
All manuscripts are pre-reviewed by the editor, and if appropriate, sent for blind peer review. Contributions must be original, not previously or simultaneously published elsewhere, and are critically reviewed before they are published. Manuscripts submitted to the Mukt Shabd Journal are peer reviewing, initially reviewed according to the flow diagram reviewing and then reach to the technical reviewer. A minimum of three reviews related to subject is required for each Journal manuscript. Mukt Shabd Journal publishes original articles, short communications to editor and reviews monthly.
Mukt Shabd Journal is currently accepting manuscripts; you can support this journal (Mukt Shabd Journal) by sending your manuscripts to us at submitmsj@gmail.com
A manuscript number will be emailed to the corresponding author within 48 hours.
Submit your paper to : submitmsj@gmail.com